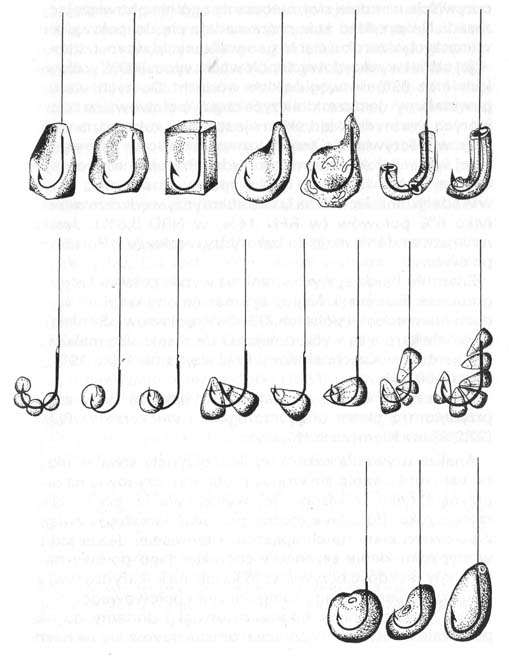 Basic baits of plant origin and methods of hooking them.
Baits of plant origin
Among the baits of animal origin, these are considered to be the best, which are the natural food of fish or are close to it. The above rule does not apply to plant baits, of course there are some exceptions (amur). After all, none of the fish under normal conditions comes into contact with anything, which could remind her, for example. boiled potato or corn meal. The situation is complicated by the fact, that there is practically no determined vegetarian among our native fish, in fact, they are all carnivores. That's why, if we want to be successful, we don't usually count on chance. Before fishing, we try – by baiting – get the fish used to a new type of food.
The choice of plant-based baits is as wide as that of animal-based baits, and most importantly, getting them is actually even easier. Bo, e.g, when a bait does not work, take a piece of bread and prepare even two types of baits on the spot – you can knead a ball from the crumb, and the peel can be used directly.
It would take a lot of space to present all the issues related to such a diverse assortment of lures, therefore we will focus on carp baits, we will present the rest only in an overview.
An analysis of record fishing for carp in many European waters has led to a conclusion, that it is mainly caught on corn, boiled potatoes, bread, earthworms and cakes or pasta.
However, their effectiveness varies greatly, which of course makes it difficult to formulate generally applicable rules. For example, maize is perfect for carp fishing in our latitudes – its share in record catches is 59% in Slovak and up to 63% in Hungarian waters! To these values, we should also add a part of the cake catch, an important ingredient of which is corn flour, so, in fact, three out of four record catches in this situation were made for maize. Proverb: "What country, it's a custom" it applies literally in this case, because e.g.. in German waters, anglers only write corn on the account of maize 6% fishing. Anglers in Poland have even less confidence in maize (5% fishing).
The results of catching carp on boiled potatoes are much more even. They taste best for carp in German and Polish waters (37-38% fishing). Further south, the carp are more picky and don't like potatoes that much: in the Czech Republic and Slovakia, you fish for them only 19%, in Hungary 23%.
The effectiveness of the bread and cakes is extremely even, Polish fishermen especially trust in dough lures (22,2%) and in Germany (11,4%).