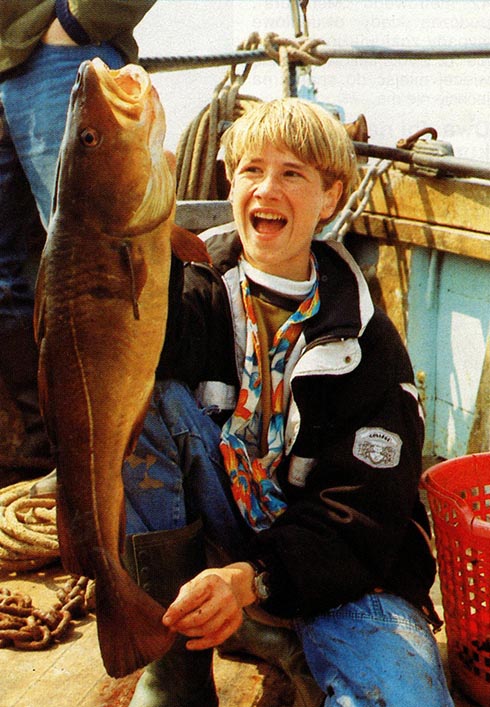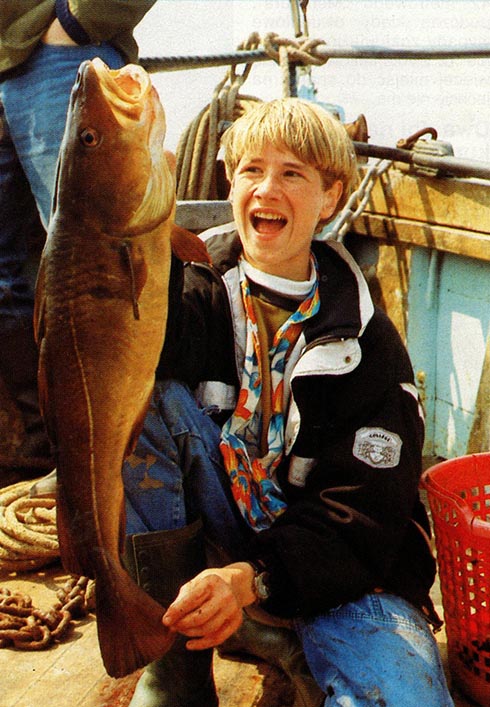 Arne set the jar of pickled herring on the table with a smile: "You have to eat fish, if you want to catch big cod ". The redbeard host exactly corresponded to my idea of ​​the appearance of a real fisherman from the cutter. He has already consumed all herring with bread. For breakfast! My friend Udo was also not very happy about this type of dish, especially at this early hour. But I made myself take Arne's 'bait'. Ultimately we were in Denmark because of the cod – and Arne Christensen in Kongsgaard, on the Helgenaes peninsula. He is supposed to take us with his 17-tonne fishing boat "Freija II" to the fisheries. You had to get used to such a breakfast, however, it was a good foundation for the stomach, who in a few hours will have to fight the wave of the sea. We caught a lot of cod within a week, as promised by Arne.
This proposal, containing your first-hand message, Karl Koch suggested to us:
"You can fish well in the Ebeltoft area now". At first we had no idea, where could it be. "Denmark Guide" provided us with the information we needed about "one of the most romantic towns in Denmark", located east of Arhus. We made the decision quickly. Because we were known to catch cod from the Baltic and North Sea ports, we were now interested in the unknown area around Kattegatt. Exactly Fr. 8:00 Freija II left the shore. There was a cutter on board 12 die-hard fishing enthusiasts in quite old age. Except for one young Dane, they were all German. Most had already been involved in cod fishing in Denmark, and they knew, what to expect. Their equipment was in good condition, very well completed. Pilkers and additional lures in all shapes and colors swayed by the fishing rods attached to the rail. In the captain's booth, full of various types of pilkers and other fishing equipment. Arne was explaining the direction and course of our voyage.
The first stop is right in front of the lighthouse. Arne knows the bay at Sletterhage like her own pocket. Nothing unusual – already 20 he has been going on fishing trips for years. In the meantime, we manage to detect a school of fish at depth 15 m.
Everything is done according to plan: at the beginning we fish in the pot, here is the quantity. "We will get to the big cod yet" – Arne comforts the disappointed anglers. The cutter's machinery barely stood over the goal of our trip, is already falling to the bottom 12 pilkers weighing from 100 do 150 g and war colors. Over each pilker there are side straps with mackerel hooks attached to them, dressed in feathers or armed with shaking rubber sandworms. I barely felt the first contact of the set with the bottom, I already feel a strong blow on my rod and it gives me a growing hunting fever. Good start! A short cut and now you just need to spin. Here the multiplier shows its class, my first prey appears on the surface of the water faster than others.
Our young Danish colleague showed us, and with less professional equipment you can fish. He pulled out with his "fishing rod", about length only 1,5 m four fish at a time. Other anglers also have plenty to do. The fish are biting like crazy, three, four at a time are not uncommon. However, after ten minutes, everything calmed down. All our attempts to tempt fish turned out to be completely unsuccessful in one second. As if there were no fish in this water at all. Arne already knew, What does it mean. The cod shoal must have moved farther away or stopped feeding altogether. Waste of time. He honked twice, The rods are pulled out and the diesel of our cutter started working. We are on a course for "women's panties". At depth 50-60 m lies the wreck, whose outline, clearly visible on the echo sounder, it is deceptively similar to this type of clothing. Countless amounts of cod have always been caught here, with many weighing over 15 kg. There have already been plays this season 5 i 10 kg. Now big pilkers are coming into play, 200-300 g and large extra lures. I opted for the red worm imitation, placed 30 cm from the spinner and tied on 20 cm of hooklink. While my self-made pilker rushes towards the bottom, I can see out of the corner of my eye, -that one of us is already "pumping". A badly bent rod and the effort with which the fish is towed, indicate larger art. Shortly thereafter, the first cod lands on board. The happy angler wants to ethically kill his catch, but here Arne precedes him, speaking: "You have to let the fish bleed out, then it tastes better "and cuts its gills with a quick movement. 7 kg specimen, and here the next cod is being dragged overboard, This time 9 kg. So we dragged cod after cod, not all of them are so big, but I must admit with envy, that all caught fish reached min. 2 kg. Except for the two hooks, on which I broke pilkers with an additional bait, I had no fish on the hook. Resigned, I installed the third pilker. After landing at the bottom – hook again, the third in a row. Or not? I jam and feel, that quite heavy art is dragging at the end of my line 0,60. It was hard to wind the line inch by inch. I was at least as tight as my fishing rod, but I was glad, that I have durable equipment.
Suddenly, I was disappointed. It was not a special specimen, but two 4 kg of cod at once so depleted my condition. So no record of the day, which I secretly dreamed of. We actually caught that day 110 cod, nine of which weighed more than 5 kg. Ebeltoft is known among anglers not only for long-sea fishing. Spring, not far from the shore, you can catch magnificent sea trout there. On the other hand, they take flatfish all year round. The best place for this fishing is the pebble beach near the lighthouse. Another big advantage of the east coast of Djursland is a fact, that it is not overcrowded with tourists. Due to this, that there are no big beaches here, nor the possibility of duty free purchases, there are fishermen on their own in these areas. Six fishing boats are waiting for us around Ebeltoft, Peter Thomes and his So-lveig also organize day cruises.
Fishing equipment can be rented or purchased at one of Ebeltoft's two well-stocked fishing shops. It is better to order the cruise in advance.