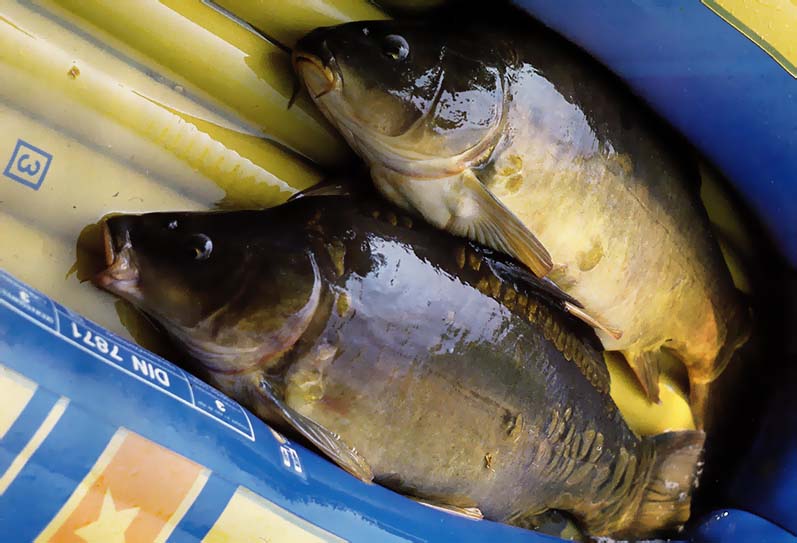 One week carp fishing, they require more than just endurance, but also preparation. Everything should be planned – from bait to cookware inclusive.
It's raining again… Rain is a rather mild term. The sound of splashing drops now falling from the sky is impressive, as if someone were pouring buckets of water over my tent.
Dark clouds started to gather in the early evening, foreshadowing a change in the weather. For the previous two days, I had to constantly use suntan oil, to avoid sunburn. Now, The heavy downpour, raging just before midnight, slowly begins to change into a continuous and steady rain.
The carp also reacted accordingly to the change in weather. They did it much faster, than I expected. The last bite was before 18 for hours.
This carp expedition started exceptionally well. On the very first morning I managed to catch it, in a completely unknown to me tank, five big fish. Apart from that, I had one more bite, but after a passionate haul, the fish beat me. The next day was nothing like the day before. In the evening. not having had a single bite since this morning, I promised myself to change the fishery.
Before I decided to let my lure rest and take a break from fishing, I began to choke my saliva at the thought of the delicious vegetable soup. The lighter I need to light the stove is covered by the devil with his tail. Never, when it is needed, I can not find her. These types of situations are well known to me. I'm always in trouble, starting from the second day of the trip, finding anything in my other home. During several days of fishing trips to the water, chaos always grips me, and a regulated lifestyle is relaxed. Carp bait bags, cooking pots, sweaters, rubber boots and a lot of other trinkets are scattered every time. Illuminating all this with the weak beam of the flashlight, I am aware, that it would be nice to introduce some order. But whatever.
Midnight meal
I was finally able to turn on the "reserve" tourist cooker" matches. After a few minutes the soup was warm and the first tablespoons of food began to drive the feeling of hunger out of the stomach.. The fruit yogurt, which I swallowed hastily before supper, was deceptively similar to the taste of synthetic protein balls. A few pieces of chocolate and a sip of water from a bottle completed my nightly menu.
I jumped out of the tent one last time, I dismantled the fishing rods and electronic bite indicators, and I hid all the equipment in the car. Caution can never hurt. I've heard more and more about cases lately, that in the morning anglers only found rod rests by the water. Probably their "colleagues" to this day they fish with such occasional "bought" equipment. Without anticipating night visits, you can leave the fishing rods for the whole night. In the event of a bite, a loud signal from the electronic bite indicator will snatch everyone out, even from the deepest sleep. I adhere to the principle, a few hours of sound sleep is indispensable in such fishing marathons. Nervously napping in anticipation of a possible bite is not the best solution. In the morning I always woke up so tired, that it had a negative effect on the results of daily fishing. So I often give up these few hours of night fishing and spend them fully rest.
In the morning sun
Before I went to bed, enjoying the warmth of the sleeping bag and the comfortable mattress, I also had to put a cream against mosquito bites on myself. The morning gave me a nice surprise. Steel-blue, the cloudless sky heralded a warm and clear day. I washed my face with cool water, chasing away the remnants of sleep. I let the first rays of the sun into the tent and lay down comfortably enjoying the nice weather. After a while I started to prepare my breakfast. I was not the only one who was hungry – a heron was wading right on the shore, hunting for small items. In hope, that carp should also have a good appetite, started assembling fishing rods. I shot a pair of boilies at the spot I had chosen with my slingshot and cast my fishing rods. I always store the protein balls in a tourist refrigerator. Even completely frozen, they quickly regain the desired consistency in water. Thanks to such storage, they are fit for use even after several days. There is no need to use preservatives.
It often happens, that without keeping in the refrigerator, even the previously frozen protein balls will rot. It is true that I have already caught carp and moldy balls, but i'm never sure, that they are not harmful to the fish (of course these, which are still in the water). For this reason, moldy balls, I always put it in a plastic bag, and these to the camping waste bag.
Sour groundbait
Some groundbaits go bad even faster. For example, freshly cooked corn, or canned corn after opening it, turn sour on the second day. Only quick wear prevents it from spoiling. It does not force us to stop fishing prematurely. Just like we are constantly preparing a fresh meal for ourselves, we also need to prepare ourselves for the preparation of fresh groundbait (bait).
The dry ingredients of the groundbait, or ready-made dry mix for protein balls, should not be too heavy a burden on our equipment. Fresh eggs, needed to make boilies, we buy on the spot or take with us in the tourist refrigerator. Please note, that a smooth surface is needed to shape the boilies. It is best to take a larger board with you. An additional pot becomes necessary, necessary for the ball hardening process. It's easy to imagine, how would it taste e.g.. pasta cooked in the same pot, in which there were protein balls before.
All treatments, to properly store the groundbait, they also relate to foodstuffs. Butter, cold cuts or meat should be stored in the refrigerator.
Food, which breaks down quickly, should be taken with you rather in small amounts. After a few days of the trip, you can buy the missing products on the spot or switch to canned food. Because it is difficult to imagine eating only one type of food during the entire trip, some variety of meals becomes necessary. With a little culinary fantasy, you can prepare dishes, that will never get bored. For the first two days, cutlets fried from pieces of previously prepared meat or hot sausage will be the best. A few lettuce leaves will enhance the taste of your dinner. Onions always play a leading role in all my hot meals.
Food products, such as potatoes, pasta or rice, long-term storage, they will be included in the meals at a later date. Fruit, caloric chocolate or, for example,. chips are always a good snack when fishing. If several anglers meet by the water, it almost always manages to create a small culinary masterpiece from shared supplies.
Let's cook better outside
Note with the gas stove! As long as the weather permits, always cook outside. It's not just the smell, which then stays in the tent or car for a long time. There are already known cases, that cooking, e.g.. protein balls in the car led to its burning.
The equipment should include a 15-20 liter container for drinking water. This is usually enough water, to meet all-day demand. We use it for cooking, making coffee, tea, for personal toilet and for washing dirty pots. Dirty dishes, after washing them with hot water and brushing them thoroughly, they will be clean enough.
My reflections were suddenly interrupted by a beautiful carp, which appeared exactly above the bait lying on the bottom.
I prepared to jam immediately in the event of a bite. The line coming out of the reel made me react immediately. After an exceptionally emotional haul, I put it into the landing net 8 kg of full-body carp. After delicately unhooking it, I let it go into the water.
After some time, my attention is drawn to the place on the surface of the water, where another carp shows up. It was happening in the exact same place. where already the previous day I noticed two large grabbing carps, air. I absolutely have to check this new 'mysterious" place, when i come here fishing next time. Spending more time by the water, we have the opportunity to carefully examine and observe it. During only a few hours of stay in the fishery, we are not able to get to know a given body of water and its individual features and advantages. It is also difficult to immediately identify the presence of fish and their quantity. All of this takes time and requires considerable concentration of attention.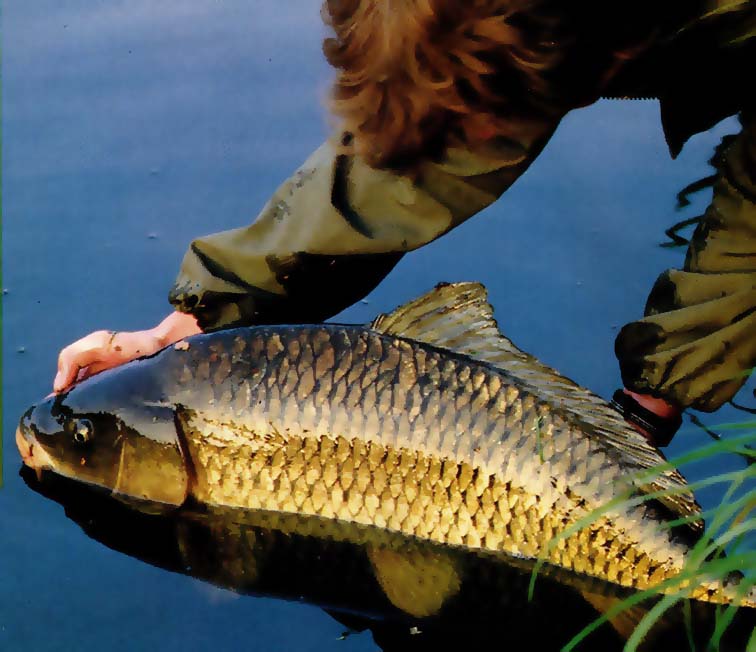 Time for observations
In many reservoirs it is relatively easy to establish carp feeding sites. Three, even the times of their meals are not difficult to establish for a keen observer. However, this should always be taken into account, that the reset time may vary significantly, especially when exposed to the weather, and, that it depends on the season. Sometimes it seems, which is often true, that the fish do not eat at all 1 the 2 days. This is especially true during sudden changes in weather with strong fluctuations in atmospheric pressure. I have had the opportunity to observe such "fishless" many times" days. Chance, that we will manage to "shoot" during periods of particularly intensive carp zeroing, increases, when we spend several days by the water.
Over the past few years, I have met several lakes, in which catching a carp on a bright and sunny day became quite an art. In other lakes, on the other hand, good bites took place in the morning, in the evening, and also relatively often at high noon. I remember one pond with lots of carps, in which I was fishing a few years ago without much results. Due to lack of time, I could only fish at night. The first longer "meeting" over this reservoir, (also during the day) brought me 16 fish within two days!
Recently, I mostly fish in lakes located more than 100 km from the place of residence. With such large distances it pays to fish only then, when we have at least a few days to do so. Most often there is no question of preparing the fishery in advance by appropriate baiting. If this fishery is known to me, I use a certain tactic. Fishing and baiting in the water I know, I am preparing another fishery at the same time. It's unknown, but promising a lot of hope, the place I am attracting to you very precisely throughout my stay fishing. When it happens sometimes, that the old and proven place will turn out to be a misfire within a few days, I already have a reserve fishery ready. Catching a large carp in it often contributed to the improvement of the poor result of the whole trip.
I came home from this carp marathon more than happy. A few nice ones came back to my catch statistics, a few kilograms carps and two specimens weighing over 10 Kg.