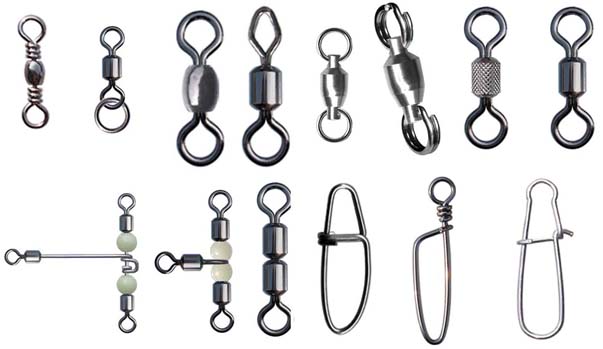 The main task of the swivels is to keep the line from twisting, therefore they are an indispensable part of a spinning set. They can also be used perfectly in some varieties of the ground method with heavy bottom lead and in fishing for predators with live bait.. The choice of swivels is very large. The types with both ears closed are less practical due to the complicated joining of spinners and steel leaders.
More practical are types with one or both ends with a pin closure that allows easy connection with a leader, spinner, etc.. Similarly universal are types with one handle equipped with a typical safety pin.
Triple swivels (with three ears) they are particularly suitable for constructing a rig with a side leader.
The swivels are made of the highest quality steel and are much more durable than the rest of the set, so when choosing the right type (or size) the strength of the swivel should be harmonized with the rest of the elements. It is more convenient to use as small swivels as possible, the most important, however, that they turn slightly and do not jam. Swivels made of inferior quality material corrode more easily. Therefore, they should be stored in a dry place, you can also lubricate them lightly from time to time to prevent corrosion.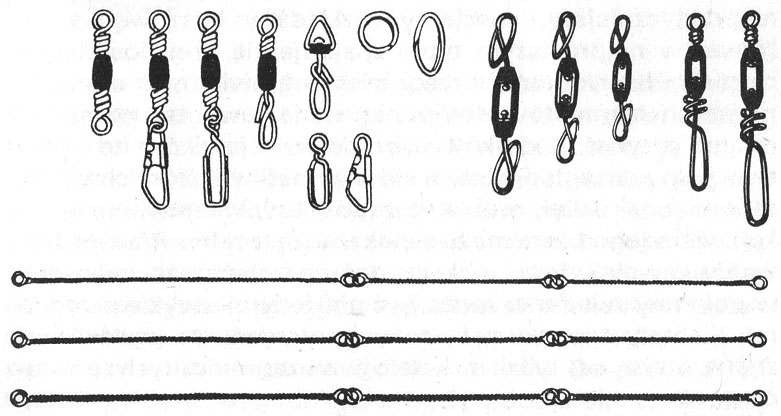 Basic types of swivels, agrafek, split rings and metal leaders.