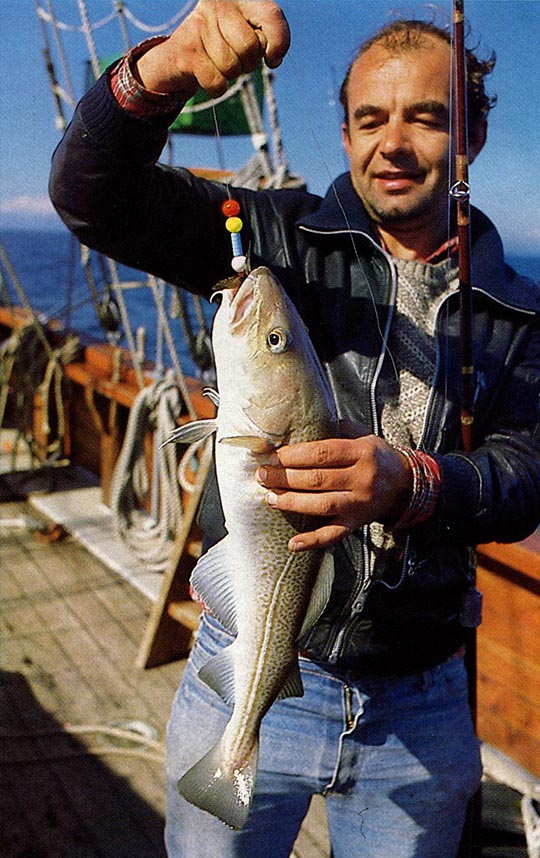 I propose a cod fishing trip to the Netherlands, do Den Helder. Teun de Booy works there, organizer i manager offshore fishing trips (seagoing expeditions), at the same time a great original and an assistant to all anglers. Two yachts of almost the same size are waiting in the port: "Mercury" and "Ready". Managers of yachts, Mr Lont and Mr Bakker go fishing for cod from mid-October to May, and the rest of the mackerel. "Your", what is this lively and busy manager called, must meet the needs of its customers. In summer, most anglers want to catch mackerel. I, unfortunately, don't. I do not like the fishing orgies of these shoal fish. Minorities, however, like me, they can also satisfy their desires. Usually, every Thursday is cod day. However, even that does not satisfy me, because I usually order two-day tours. I have my reasons for that. Well, during one-day turns, crowds approx. 70 anglers on the side 42 meter long "Mercuura", while two-day excursions are at maximum 17 followers. Besides, there are no more places to sleep on the yacht.
Two days on a cod course
What is very important: two-day tours take place in the summer, so in the main mackerel catch season. This time the fishing boats are only on mackerel. I guess, that a yacht is rented for the whole group, then we choose any course and go fishing for cod.
Who is looking for cod in these regions?, this one has to look for wrecks. There are not so many wrecks in any sea in the world, what in the North Sea. However, two aspects are inherent: appropriate equipment with an echo sounder and extensive experience of the ship's operator. Mercuur and Paraat have it all on board, moreover, "Ton" and his seamen also have the necessary routine. Wrecks are marked on their maps, which will not be found on other nautical maps. After about a two-hour cruise, we come across drilling towers, and the crew had already determined the location of the shipwreck with great precision.
Then the captain throws the buoys, in order to be able to quickly return to the marked place in the event of a strong drift. The siren was the signal to start fishing. Equipment, which cod is usually caught in the Baltic Sea, it will absolutely not pass the exam here. Primarily, leave your spinners at home. "Only this one, who has too much money, here he fishes with balls – advises "Ton". The wreck is one big trap for these metal lures. You can get rid of them faster by "baiting", that is, throwing them overboard without being attached to a string. Instead of pilkers, we use the bait to load it, lead weights approx. 300 g of weight (in calm weather) or heavier. When the sea is a bit rough or the currents are strong enough, a load must be selected 500 g. The diameter of the fishing line is at least 0,50 Mm, and the best 0,60 Mm. The side leaders are a bit thinner, in order to eliminate the failure of the entire system in the event of a hitch. Large hooks (size 5/0), heavy reels and stiff fishing rods – everything must be bigger than normal when fishing over the wreck.
And here many of us are wondering, how long will such completely new equipment amortize. Well, no worries. On board the ship, you can rent everything from a fishing rod to a reel to a fishing line for only one 5 Eur! Lead, paternoster, bait additives, carabiners should be purchased or supplemented in a well-equipped "spare parts warehouse". Let us never forget the following advice: the best cod bait is "Octopussy". This imitation octopus with shaky branches, is an absolute hit here; only the choice of coloration remains a question. More than once, cods in their suicidal tendencies fight for green versions of this lure, and sometimes red and yellow editions find their recognition.
Let's go back to the fish living in shipwrecks. Well, the first copies, I've caught there, there were French cods, disappointing with their size. It wasn't cod, of course, which came from France by mistake. This is a variation (Trisopterus eyed), which, due to the lack of a pattern characteristic for marrow cod and the lower visibility of the sideline compared to "our" cod, differs significantly from them. The size differences between the two varieties are colossal. Most of the "French" reached approx. 1/2 Kg, the largest items measure approx. 35 Cm, thus little more than the cod conservation dimension.