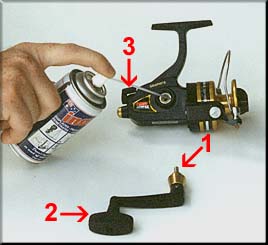 Most stick mates consider fishing a seasonal hobby. They do not enjoy fishing in the rain and frost, they stuff their equipment in wardrobes and cellars in September, and in October at the latest. This happens most often after this fall expedition, during which no fish nibbled on the lure, and a whirlwind and rain made him make a solemn promise, and not once this year.
Irritation is not a good advisor and it makes no sense to load all reels into the cardboard box after the first autumn disappointment., floats, spinners, containers with trinkets, as a rule, it is just any kind of pouring all the equipment into the container. It will be reflected in the spring – some things will have to be thrown away, some have to be repaired, and it may take days to sort this mess.
December evenings are the perfect time to carefully prepare your winter sleep equipment. They are also a great opportunity to pursue your passion in the cold season. Let's not try to tidy up, conserve your treasures in one evening. Experience teaches, that rummaging around in fishing toys can be quite a pleasure. Already in December, you can think about the March ides and roaches.
First and foremost: let us not be terrorized by the family and pushed into the basement. Even in the most modern blocks, mice and rats live there. Perhaps they will consider our container a perfect place to set up a nest, they will make the lining of nests from the covers, they will chew through the boxes, they will grind their teeth on the cork handle of the rod or even on the carbon blank.
So we need to find some space in the wardrobe, one or two drawers, piece of wall. You can also plead with a real Christmas gift, np. a commode or cupboard matching the interior design. And then we get to work. We start with the rods. We carefully clean all the blanks with a cloth soaked in dishwashing liquid, special attention is paid to the caps and connectors of telescopes and eyelets. Put the polished rods into cases and tubes, put them in the wardrobe or in a separate corner, taking care, not to be stored near radiators, they are not prone to tipping over and can be reached relatively easily – after all, one of our colleagues can take us fishing even in the middle of winter.
We spend a lot of time on reels. We start with carefully rewinding the line through a cloth soaked in Ludwik or Sunlicht. This will extend her life. We open the cover of the mechanism, we remove the old grease with a brush and gasoline solvent and apply the new one – there is no question of any gifts or other inventions, special reel grease should be purchased. We put the drums preserved in this way into boxes or covers and put them in a drawer obtained from my wife..
Then we start sorting the hooks, trebles and artificial baits. During the season – even if we were extremely pedantic – they become confused and entangled, we rarely find time to replace damaged treble hooks, removing broken knots… Three, we lose control over the good we have and we do not know ourselves, what lures we have.
So we sort the hooks, unbent, We throw rusty and blunt ones into the trash. We empty the reels and leaders, after all, in the spring we will be tying new stalks from fresh fishing line anyway. Before putting the hooks in the box, it is a good idea to soak them in kerosene and dry them thoroughly.
Then sort it, To remove rust and oil pucerce, we apply spinners and spoons. By the way, we exchange bent ones, damaged treble hooks, split rings and blunt tips should be sharpened on a corundum stone.
We also clean wobblers carefully, we choose the colors and sizes of twisters and rippers and hide everything in separate boxes with compartments.
We also clean each float, every waggler, we take off polyethylene t-shirts from the bodies and keels, so that they do not stick during storage. Both floats, as well as lures, we segregate for good and for them, which need to be repaired, varnish, paint over. We leave the latter for the time of our winter longing for the fishing rod.
We still do some order in the weights, feeder feeders, bells, lights and other trinkets, we clean the bait and bait boxes carefully and finally we can start equipping our ice box. We have such order in summer equipment, that whenever we want, we can open our drawer and stare at fishing treasures, like a philatelist for postal brands.