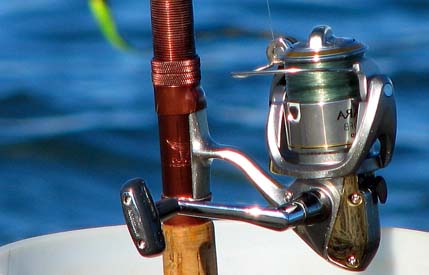 If we are using a set with a line attached to the tip (a kind of whip is thus created) Of course, we do not use the reel. It is indispensable in all other cases. Here are the most important tasks of the reel:
– should have enough line available (fly line); at the same time, its construction should allow for efficient and quick extension or release of the line (when casting and towing);
– should, together with the line and the rod, allow the fish to haul smoothly and confidently;
– should be reliable in use;
– it should work lightly;
– the line should be properly placed on the spool.
A spool is used to store the line in the reel, which should have the appropriate capacity (sometimes even over 100-150 m of fishing line of appropriate thickness), as well as the right form (it should not have sharp edges), which will enable smooth casts. Particular attention must be paid to sufficient solidity of the bail and spool, which parts are particularly stressed when towing larger pieces.
Some manufacturers go too far in pursuit of records in the delicacy and lightness of products, the effect of which is sometimes excessive weakening of particularly loaded parts, np. just a spool.
An equally important task of the reel is to enable a smooth haul of the fish; this task is performed by a special brake system (it is used in most design solutions). The reliability of the brake must be judged against this, whether it works absolutely evenly and whether it is possible to smoothly regulate it - this is also important, how it performs under long-term use (whether there is a possibility of the mechanism overheating due to friction and whether it may affect the braking effect).
The quality and performance of the reel is also determined by its gear ratio (usually 1 : 3-5), quality of the basic construction material (light feet, but also plastic masses, less often metal-plastic combinations), bearing and gear design. As a rule, there is no problem with the quality of the material, types of reels constructed on the basis of plastic masses or their combinations with metal are reliable.
The bearing system of the gears, which limits both durability, is a weak point of the reels, how liquid, uninterrupted operation of the reel even under extreme load conditions. This as well, so as not to buy a "pig in a poke."," we should not get confused by the effective shapes of the product, but try to look inside it. Cheaper constructions have a shaped and bearing gear mechanism (plain bearings) by simple and cheap design solutions, therefore they are quite unreliable and unstable. To save by buying a cheap reel could actually mean buying it expensive. But this one, who wants a really reliable product, Rather, let him invest a little more money in types of reels with a gear based on rolling bearings. (We will devote more attention to such an important mechanism as the reel brake on another occasion).