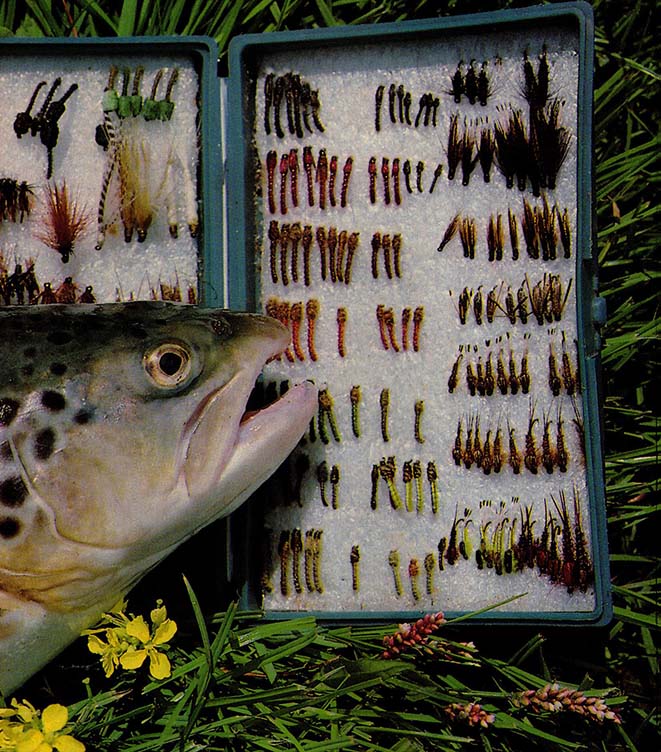 Fly anglers show each other artificial flies with great reverence. Most often they are colored, "Pampered" and varnished. Flies, about which I want to write here, they are not the ideal of beauty. Each of them, however, has its own "past".
At the beginning I will start with an unpleasant event. It was windy, and the driving light rain had a very depressing effect on my well-being. However, the one-day license was already purchased. As far as the eye can see, there was no sign of fish feeding. So I decided to fish with a wet fly. Imitation of a spa sprout, which I saw at my friend's, and then made a similar one to myself. It seemed to me to be the optimal solution. It should be deep and well provoking trout.
Diagonal throw against the tide, to give the bait time to sink, guiding it very sensitively and I have already got my first bite. So I was a bit disappointed, when a too late jam hit the void. Another throw, gentle vibrations are evidence of this, that the lure slides just above the bottom. Resistance! The speed of my reaction at this point could only be measured by the latest generation computer. Unfortunately, it was just a hitch.
After a few pulls, I finally managed to release the rod so happily, that I didn't even tear off my trowel. It gave me confidence in my own abilities. Another throw and just before the end of the run-off is another one, a beautiful hit on the "working person" gammarus. Further accidents happened at lightning speed. The rod bent into a headband and the "live torpedo" escaping with the current jumped out, tail flapping, above its surface. Suddenly the line went limp and the ghost fish disappeared into the water so quickly, as it appeared.
Goldwind
After pulling the rope, I picked up my fang in my hand and took a good look at it. Until I shook with anger, when i noticed, that the point of the hook was broken. Invasive flashed through my head, reproachful question to himself, why, after releasing the rod from the catch, I did not check the hook. And who was saying it, that there are no salmon in the river…
Again, I failed to catch a fish with another fly. My son tied this gold-headed nymph to a leader, the first time I took it with me fishing. Despite previous trials on the lawn, his first shots looked like this, as if the coachman was firing a whip. For your attention, that when the rod was retracted, he tilts them too far back and therefore the fly follows him into the water. he was only answering: "With this technique, I will also be catching fish behind my back". He jammed his first grayling with one of the "normal" flushes. I didn't have to help him during the lobby (the boy had a lot of practice in catching calm zero fish).
From then on, the grayling was excited enough, to convince my son to fly fishing. Most of his throw was successful. So I put my fishing rod aside and looked at it, which gave me so much pleasure, that I forgot about it, that I can fish too. On the way back, I recalled all the phases of this hall in my mind, and I already knew, that a new enthusiast of fly-fishing has arrived in my home country.
At dusk
There are many angling legends about this special time of the day. The sunset is a time of especially beautiful fly-outs. With feverish eyes, I absorbed all the stories of experienced anglers about the whole host of giant trout, getting ready for the evening reset. Of course, I spent many of the waiting evenings by the water, but the fish did not want to conform to my wishes somehow. The darker it was, the brighter my flies were. In the end, a secret weapon of last resort was intended, that is, a completely white imitation of a mole, which was to punish many evening spotted predators.
Fishing with a dark fly, for which there were good results during the day, in the evening it misses the point, because it is then hardly visible. Jams by the rule, that the bow tie is already in "peg" on the water, made by foraging fish, are rarely effective.
I come out of the water on a dark night like this, that at least the eye is distorted, and reflections related to the evening fish picking run through my head. Everything is back to normal, when, after moments of doubt, the next day, in the evening, I see a circle by a circle on the surface of the water. Returning home, I change in boxes with bow ties and try to choose the best one for the next time. However, it should be dark, like day fishing, but at the same time clearly visible. Considerations in low light on a variety of "leeches" they are not too long…
Later, I found a new material for making bow ties "Hi-Vis-Dub-Wing". Judging by the name, it must have been really good. I made some interesting flies out of it and I had a few happy hours with them. Trout and grayling, buried all day in various hiding places and nooks, went out in the evening on "clean" water. At that time, the giant art went to the flies just at the sight of them, making me the happiest person in the world. This day, characterized by a very large number of bites. it remained in my fishing memory forever.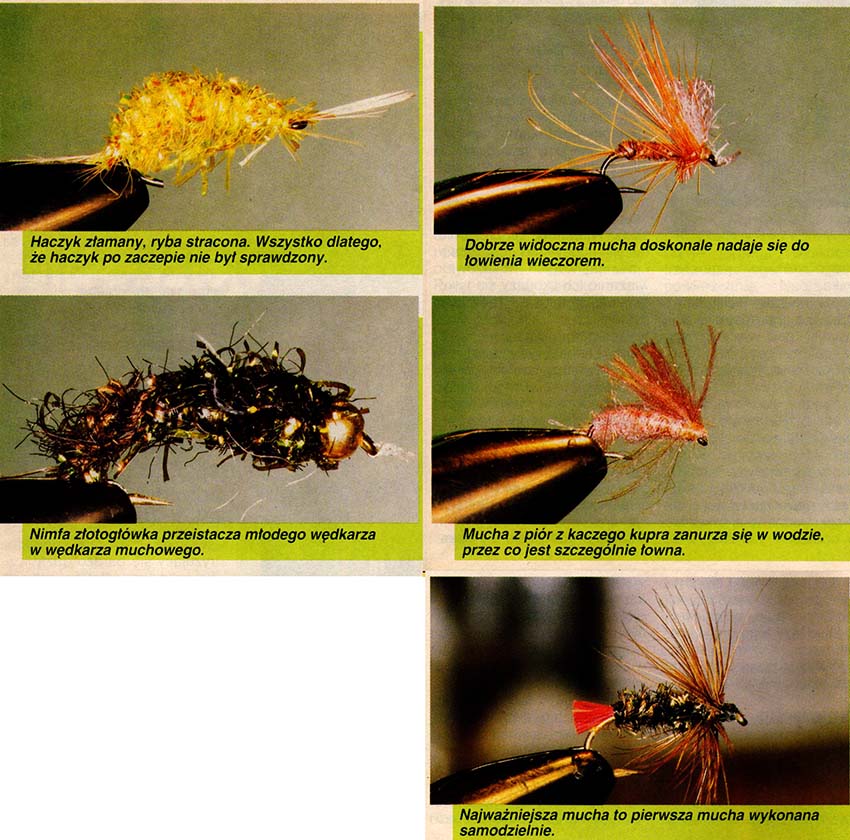 Feather flies from rumps
Each, who is constantly interested in topics related to fly fishing, certainly drew attention to the feather flies taken from the Cul de Canard's duck rump "invention" Anglo-American. You know, Making such a fly is not easy and without professional guidance, tying them will only end up graying on your head. An innocent question during a meeting with colleagues while tying flies (however, it may not be too stupid) should dispel many ambiguities related to their implementation. Mostly flyers are nice people, and I was quickly made a dozen of these flies. I put them in the supply box, where "led" they lived a very quiet life for a long time.
Until one hot day, everything went smoothly. The graylings did feed well, but consistently avoided my "duckling."" a fly. In the water they went up somehow "weird", and the emerging "circles" they were more regular and delicate.
This "sure" one hundred percent fly has proved to be unsuccessful in any way. I was not even able to state the extraordinary floating abilities of this lure made of "greasy" duck feathers. The fly quickly soaked up water and disappeared under its surface. I thought to myself, the feathers were probably not of the best quality. Then I made a few dry throws and the bow tie landed just above the eyelet" on the water, as if she was attracted to the fish stand by a magnet. A little nervous, I prepared to jam. A silent splash and the first grayling landed on my rod unexpectedly.
This taking was analyzed by me for a long time. After all, everything happened exactly, as in a movie script. The fly dipped just like it should – just above the grayling site – and the fish also took it in a "school way."". The new situation by the water, which I managed to master, increased the baggage of my fishing experiences.
Number one
The last fly is also the most important. I was not able to tempt any fish on it either. I visited a gentleman once, which I heard about, that he is a good fly fisherman. Being is time, when I was just getting started on learning to fly with an artificial fly. The man told me about his stay in Ireland and showed me a box full of flies, which he claimed, he made himself. It interested me very much. During the short demonstration, I couldn't quite close my mouth, when i saw, how fast he makes artificial bow ties. One is prettier than the other. He must have noticed the gleam in my eyes, because he explained the subsequent phases of fly tying. He also forced me to make a practical attempt to make a fly, pressing a "bobbin in my hand."" (the winder). After a few minutes, I actually made my first ever "Red Tag".
Piet, you owe it, I'm still chasing different feathers now, bits of hair and other fly-making materials, and that I sit all night and tie them up. Ah dear Piet, it is because of you that the forest of my fishing rods grows larger and larger, the amount of remaining equipment grows and grows (reels) and my wife has long stopped believing, fishing is a cheap hobby. You also owe all the great adventures with self-made flies, I managed to outsmart the fish, great hours by the water. Hours, that are not forgotten.