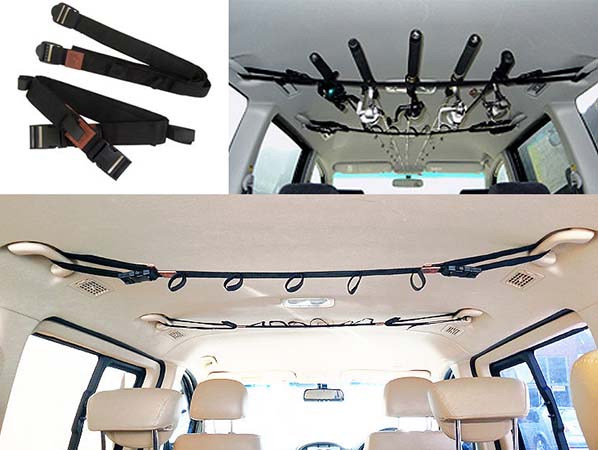 Anglers outgoing take too much luggage with them. Fishing trips are associated with many problems. Sometimes these are financial problems, however, most often it is a lack of space in the car, when you need to pack your fishing equipment and the whole family. Do we have to take all our equipment with us? It is best to get some information about the water, on which we want to spend our vacation, and specify the main purpose of fishing. Deciding on one type of fishing will significantly reduce our luggage. However, you should always have one universal rod with you. Here is a simple example. We're going to Ireland, and the goal of our fishing dreams is fishing on the high seas. All the heavy equipment, suitable for this purpose, We took it with us, of course. On the spot it turns out, due to the storm there is no way to go to sea for a few days. So we walk along the brick quay and suddenly we notice a shoal of bullheads in the water. What a fun it would be to catch them with a roach rod.
The volume and weight of luggage can be reduced by leaving many unnecessary trinkets at home. Take only the essentials with you. Let's not drag kilos of lead and dozens of floats. Let's just take this, which we will definitely use on the spot. If necessary, many fishing accessories can be purchased on site. Winding fresh line on the spool of the reel before departure also allows for a small reduction in luggage. However, it is a good idea to have a spare spool of fishing line just in case (abroad, it is not always possible to buy high-quality fishing line). When winding the line, check, whether the guide on the bail works well and what is the condition of the guides. The guides should not be cut by the line. Incisions make such. that even a new line will be ready to throw away in a short time. Apart from that. any hauling of the fish would be much more difficult due to the weakening of the line. To this day, I have unpleasant memories of the accident, which happened to me right after I arrived at the Greenland fishing camp. Taking the spinning stick out of a special case, I realized with horror, that a piece of the tip was broken. This piece could not be removed from the case in any way. It forced me to fish with a different rod. In order not to be surprised by the water, I advise you to have some thread with you, quick-drying glue and several top guides. Having these little things will allow you to quickly mount the top guide if necessary. If one of the porcelain guide guides is damaged, it is best to remove it from the rod, because it cannot be repaired anyway. The functionality of the rod will not be negatively affected by the lack of one guide.
The angler's luggage should also include things, which could be difficult to buy on the spot.
For example, when I go to France I take a lot of groundbait with me. I don't take worms fishing at all. In hot weather, they would not have survived the journey anyway, and you can get them on the spot without any problems. Instead, I take canned corn, dry, breadcrumbs, a pair of bags of ground Parmesan cheese and a net to catch water larvae. The latter allows me to get my favorite fish food out of the water and use it as bait. Many fish are more likely to eat e.g.. if you like or tubifex than for white worms. You can also try to catch a livestock with such a net (a chase is prohibited in France)
I always take two livestock containers with me. In one, I store and transport fish, I use the second one by the water, and it is sufficiently stable, that I can sit on it. To use the space in the car. these containers are packed with various fishing items during the trip.
10-meter rope, which I drive in the car, it also has multiple uses. I use it as an anchor rope, or it is used to lengthen the string of the "lanyard"". which I often pick up fish from a high bridge.
Our luggage must also include a round bucket, mainly used to prepare groundbait. It should be round for this reason, that it can be easily wiped off the remains of the groundbait. In the corners of the angular containers there is always some old, spoiled groundbait, which significantly affects the taste of the new groundbait. Everyone, who still have trouble packing, I propose to take an example from me. First, I pack all my fishing gear, and then I invite my family to join me.