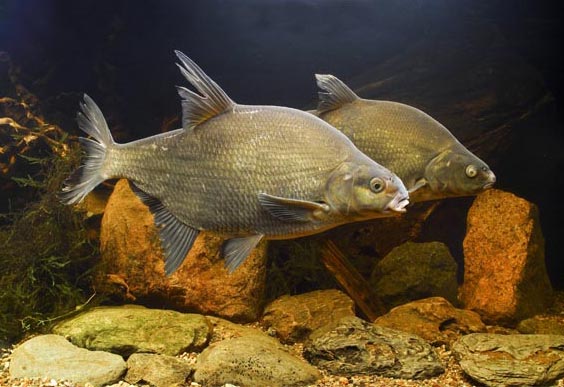 The land of bream
The lower parts of the lowland rivers correspond to the determinants of the bream land. The waters of this range are calm, they have a very mules fall (do 1-2‰), they are spacious and deep. With a slight decrease and a significant application of ambient mud, the bottom is usually soft, mulist. The water temperature in summer is quite high, very unbalanced oxygen balance, which corresponds only to the most resistant species of fish. Due to the natural fertility, we rate these waters very high.
The most typical fish of the bream land are: carp, lina, bream, sum, pike, zander, roach, rudd, karasia, jazz as well as chub and mumps. Often a barbell appears here, but only in sections with a harder bottom.
At the mouth of the rivers to the sea, the land of brackish waters is created (called the land of smelt or the land of ruffe and flatfish.) characterized by the mixing of waters: sea ​​and river. The fish stock is very interesting here; it is very diverse because freshwater fish meet here (karp, pike, bream and others) with some marine species.
The rules of amateur fishing also refer to the division of waters into two basic categories:
– waters of the land of trout and grayling; listed in a separate brochure (it also clearly specifies the lures allowed in a given fishery), You may only fish on them with one fishing rod during the daytime, tj. from dawn to dusk.
– lowland waters; anglers have the right to fish on them with two fishing rods simultaneously 24 hours a day.