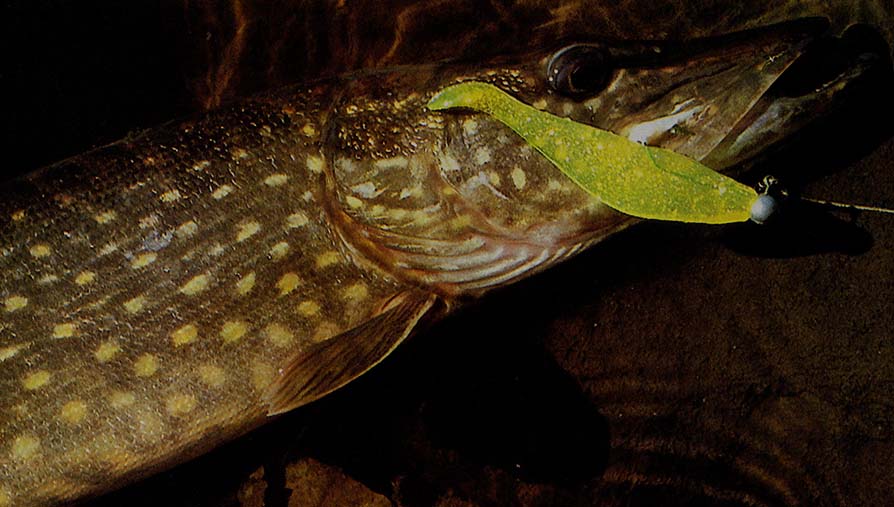 Soft plastic lures are a hit in recent years. And at least in their homeland, United States, they are produced with the intention of catching other species of fish, colorful rubber bands took over the European angling market quite quickly. Olivier Portrat discusses the different types of these lures.
The selection of artificial lures made of soft plastic is so great today, that there is probably no amateur angler anymore, who could understand it all. Not enough, that after entering the store you can get nystagmus, new products appear every month, totally crazy eraser models. For the truth is this, that the European shaking bait market" it is becoming more and more similar to the American market. In Europe, only a few companies produce artificial lures from soft plastic. Many importers, however, forget about it, that the elastics offered on the American market are made with local waters and fish species in mind. For example
to, which is good for American zander (walleyes) it does not have to be superbly effective for European zander.
Four groups
Suddenly it may turn out, that in the huge commercial offer only a few models of rubber bands are suitable for catching our predators. So it is important, in order to be at least a little oriented in the surrounding "thicket."" soft plastic lures. Most erasers can be divided into four large groups. Those are: 1. classic twisters, 2. fish imitations (shads i vitalas), 3. earthworm imitations, lizards and newts and 4. exotic lures, which include, among others, floating imitations of slug snails, frogs and flying lures. All these groups are of course also hunted in Europe, provided, however, that the angler will know exactly where and how to fish with particular models of these lures.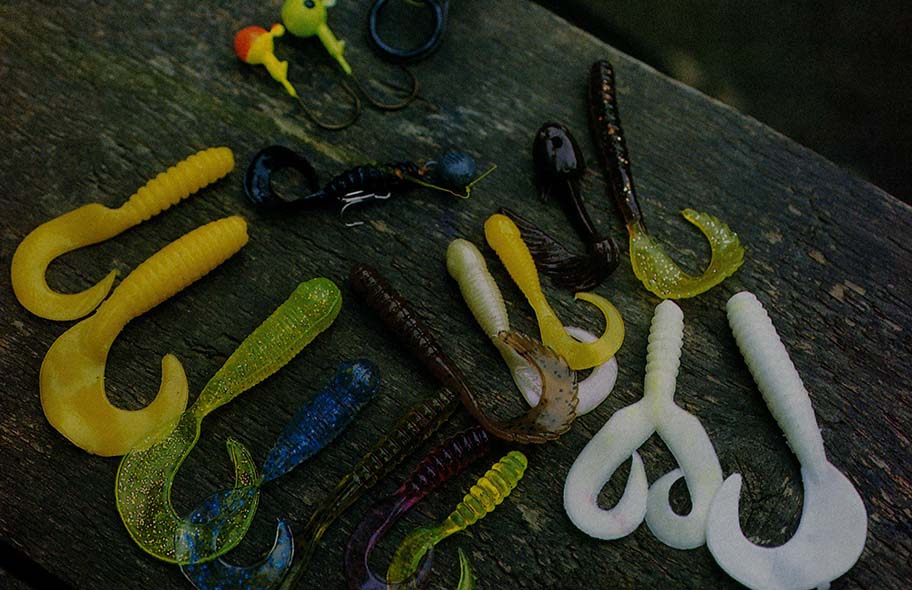 1. SINGLE TAIL
In our latitudes, the single-tail twister quickly rose to the group of classics and is one of the most popular artificial lures.. It is a bit surprising, because in the USA this lure is not very popular at all. Nay – many established American anglers do not fish with "normal" twisters at all!
What country is a custom? of course not! Americans know perfectly well, which bait best "suits" a given species of fish, which they are going to fish at the moment. And yet overseas "curl tail" (curving tail – note. crowd.) was originally invented to catch small-sized predators from the sun bass family. For walleye fishing (American zander) local anglers use twisters sporadically.
Does the lure for solar bass have any reason to exist in Europe?? For zander and river perch – of course! Practice has been proving for a long time, że sygnały wysyłane przez pracującego twistera jak najbardziej "pasują" do naszych wód oraz zamieszkujących je ryb. Thus, mister twister has become a true European.
2. FISH IMITATIONS
In the US, rubber imitations of fish are also as "unpopular" as twisters. The Shads are only seen occasionally in stores. Due to its characteristic tail, this lure is sometimes also called a paddle twister.
In the USA, the smallest models of soft plastic fish are appreciated only by fishermen who fish for sun bass and walleye.
Larger models with a length of over 5 cm są kupowane tylko przez kolegów łowiących w morzu. The rubber fish are mostly shad imitations, fish found in mass in both freshwater, salty and salty-sweet, constituting the main food of local predators.
Rubber imitation fish with paddle-shaped tails also did not gain much popularity in America.
In the case of walleyes, this is quite understandable – these fish reach twice the size of European zander, and thus catching them is not that attractive and only a few anglers focus on catching these predators. The fact is, however, surprising, that these lures are so rarely used for catching muskies and American pikes (the same Esox lucius as with us). In the United States, these predators have never really been skinned.
In this respect, American anglers could learn a lot from their European colleagues. This side of the ocean has long been known, that the largest shads are "deadly" pike lures. This lure is especially effective, when it is caught without a lead head and allowed to dance in the water.
Another rubber fish with the sonorous name vitala does not come from the USA, but from France. This lure, unlike classic rippers, bends sideways along the entire length of its body.
This undoubted advantage is also the biggest disadvantage of this lure – Correct arming and long throws of the flexible vitala are not the easiest ones.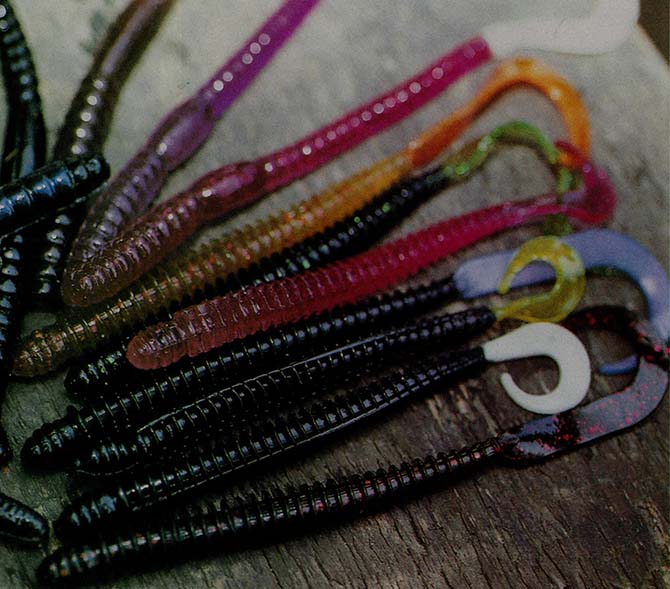 3. RUBBER WALLS
Fish take on worms, it's true as known as the world. However, it turns out, that in the era of mass production of various plastics, even fishing worms don't have to be real at all.
Many Americans are the only lure that they bring to the water only with imitations of rubber worms, lizards and newts and these colleagues do not complain about the weak bites of largemouth bass. Seasoned predator hunters take care, that the soft rubber worm is the number one lure for voracious bass. The imitation lollipop is not armed like a twister – lead head with a hook, but with special hook systems (the so-called. Texas rigs i Carolina rigs).
Thanks to such equipment, the lure is not loaded with anything and moves very naturally in the water.
Rubber lollipops are fed to the bass at least half a meter long leaders, so that the predator could easily "suck" the prey into its mouth. Hook blades (mostly two) are lightly stuck into the body of the lure, thanks to which it is possible to spin even in very overgrown places.
And how river perches react to these lures, pike and zander? For a medium-sized perch, the gummy worm is a bit too large a prey, for a larger pike, a small snack between each meal, zanders, however, do not respond well to it.
If anyone is going to go to Italy for large-mouthed bass, Spain or Morocco, he can take only the rubber imitations of lollipops with him without fear, lizards and newts. Perch trout are literally crazy about these lures.
4. EXOTIC Lures
In addition to the classics, there is also a huge number of "inventions" made of soft plastic, made mainly for fishing in specific conditions. A perfect example is the so-called flying lure.
This lure, when falling in the water, "slides" to the sides or to the front, thanks to which it "sticks" under various obstacles and can also be used for fishing there, where no other artificial bait has been able to reach so far.
In Texas dam lakes, with hundreds of kilometers of rocky shore terraces, Flying twister" it is, of course, an effective bait, however, in Central Europe such shores are rather rare.
Isn't all this fuss with soft plastic lures just plain chatter? Certainly not. However, be aware of this, that traditional lures are better for precise fishing on a small perch hill in the middle of the lake. Amazing work, and basically a provocative dance in the water is characterized by slugs – lures modeled on slug snails.
They are armed with just one single hook and caught without any weight. The lure is pulled up lightly on a stick, accelerating slightly in the meter sections.
Every spinning angler will immediately notice all the properties of a slug – it bends all the time, changes the direction of its flow and twitches in the water.
At the time, when almost the entire line is wound on the reel, slugs twitches provocatively on the surface – the word dance, which only on a few perches , pike and bass does not make any impression. Of course, zander can also use this bait. Because one-
however, the encumbrance is out of the question (slugs stop working well), and the bites are hard to feel without eye contact, the use of this bait is rather limited to fisheries with very clear water and a large number of snags.
In fishing shops you can find surface lures made of soft plastics more and more often. For example, floating frog imitations are very popular. These lures are mainly produced for unloaded fishing for pike and large-mouthed bass in waters with a large number of snags..
After attaching a small weight to the beginning of the leader, the rubber frog becomes an excellent bait also for zander. After lowering the weighted bait to the bottom, a floating frog sways in the water over a weight lying on the bottom. With each light stroke of the line, the frog descends even closer to the bottom, while during pauses in reeling it rises again the length of the leader.
For zanders, such behavior of the slowly led lure is extremely provocative.
The disadvantage of spinning with a pull weight on the bottom is this, that the angler does not feel the bite directly.
A large number of empty beats and the strapping of some fish during hauling make it, that European anglers only use floating lures for surface fishing.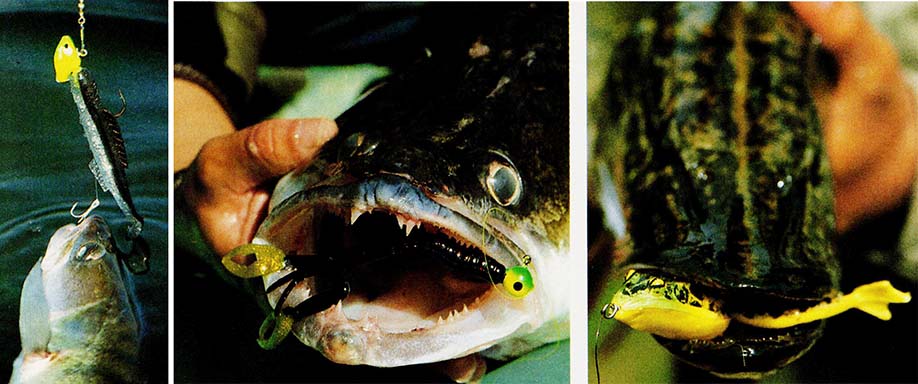 Rear hook
Empty battery! Another zander attacked my rubber imitation fish. Why I still can't jam? Was the large single hook sticking out of the back of the bait a little too far from the tail? I decide to attach a short metal leader to the eye of the hook, and a little grappling hook to the end and stick one of its tips into the very end of my shads' tail. This modification did not deteriorate the performance of the lure in any way, and I didn't wait too long for the results. I cut my next bite without a miss – The zander only hooked on the treble. Since that day, thanks to the additional grappling hook I have reduced empty strikes to a minimum.