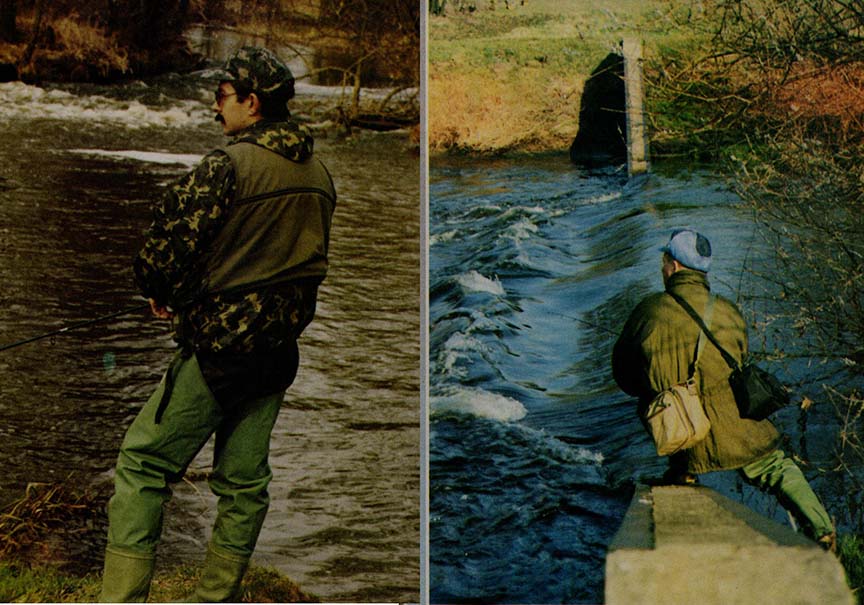 Returns from December trips with a fishing rod were marked by anger and disappointment. Thousand, two thousand throws in vain, as if I was fishing in winter, and not in the river. It was going like December – the few kilometers along the loosened shores were tiring as hell. And the predator appeared only in the assurances of the authors from the fishing press. Occasionally on a phone call from one of my colleagues.
Only then did I start to hook on the hooks, when I stopped going fishing. That is, I did not leave the river and my hunting dreams, I went on a fishing trip at least once a week, but my attitude towards water has changed. I accepted the fact, that she too has the right to winter sleep, to rest and doesn't have to fish me every time. I gave the fish themselves the right to whims, for slow digestion, to not reacting to the most sophisticated lures.
To a purebred angler, especially for a spinning angler, there are no hunting escapades on winter days. A re-reading of monthly magazines that have been collected for years cannot replace them, leafing through books and waiting for strong ice on lakes and dam reservoirs. Even opening the workshop and picking wobblers or spinning spinners does not help. At night, summer reefs and overflows begin to dream, deep dives behind spurs, pits on meanders, mysterious, green coves… It's spinning, he puts a few sheets in the box and rushes to the river, to be heartily fed up with it after a few hours. You come back without a fish, with frost in the marrow, with stiff joints. And with solemn resolution: not once until spring. Week, two and history repeats itself. madhouse, addiction, addiction.
Not for fish, and to the pole – I learned this attitude from fishermen in the former Soviet Union. Fishing is supposed to be fun, and not the torment of a man driven by anxiety – they repeated and patted me on my wind-blown coat. Don't think about fish in cold water – advised – think about yourself. Consider, what will you do on your winter expedition, will you go, will you sit somewhere for hours. Winter gear, these are not fancy rods and reels, no bait boxes…
So when winter comes, I'm ready now. My winter spinning gear consists of a down ski suit, tall, waterproof boots lined with fur, comfortable hunting gloves with holes, through which he can be exposed ,thumb and forefinger and caps- terrorists, from under which only eyes peek.
My winter spinning gear is a steel thermos with a capacity 0,75 l, subject of the road, but gorgeous and irreplaceable. How many times have thermoses with glass inserts slipped out of my shapely paws, no one will count. And with the metal vessel I can rush myself in front of the white bears and crouch under the tree after the battle, to fill your belly with hot and strong tea sweetened with honey.
Regardless of, whether meteorologists call December warm or frosty, and so on fishing trips you should dress like this, as if you were going to reach the pole.
Not only good clothes, hot drinks, but also a bag with a fishing stool frame. Being able to sit comfortably for a few minutes can be unfriendly, change the chilled world into a nice cozy little home.
Additional equipment – it is primarily a universal rod with a reel. I myself take a three-meter zander rod with a casting weight of up to 30 g and middle stock. This allows me to use virtually any bait. With small spinners or miniature wobblers I can penetrate the braid behind the head in search of ides and chubs, I can tap the bottom in the deep, slow gutters with a twister, I can finally send the twenty-five-gram spoon away down the river, between huge boulders sticking out in summer.
The reel with a spool enabling long casts is equipped with two spools – one has a strong sixteenth note (strength approx. 3 Kg), for the second twenty (Ok. 4,5 Kg). The thinner line is used for guiding wobblers and centrifuges, roughly handles jigs and spoons. The set of lures is placed in two small boxes. Experience teaches, that in winter, smaller lures are rather effective. So in one box I have a few three and five cm long lures, a pair of spinners in sizes from "0" to "2", three, four spoons, rather oblong of different weight… Sometimes I take a small cicada, a hard-working invader – Vibrating blades can sometimes lure a nice zander or asp from the wintering area, can hit them' catch a big perch, pike and even ide or chub.
The second box is a collection of rubber bands – a dozen or so medium-sized multi-colored twisters and the same five-centimeter rippers with soft tails. In the same box I have a collection of additional lures to make the work of jigs more attractive - these are wire safety pins with rotating paddles… Thanks to them, you can create combined, like sumexes, kind of spinner baits. In December, predators can be very sluggish; In order to stimulate their aggressive instinct, it is sometimes necessary to emphasize the twister's work with a spinning paddle. It works. They are a secret weapon against December toothache, in my opinion, centrifuges with front load – so e.g.. Mepps-like "Lussoxes" of smaller sizes, the famous "Woblexes" produced by Rublex and the entire collection of spinners imported in suitcases by traders from the CIS countries. Such a spinner, consisting of a stylized head, behind which the paddle is spinning, it is eagerly attacked by zander and pike, also raises perches, can provoke a rap dormant in the depths.
Co, where, when?
Days in December are extremely rare, when the fish is feeding on the surface. You have to search for it by heart and knowledge about customs. Pike and perch, for their wintering grounds they mainly choose deep pits with completely standing water. They can be picked out of the stalls with very long heads, from shipping ports, from flooded fascine-stone cages, from sandbanks and millówki, and oxbow lakes periodically in contact with rivers.
On warm days, when the pressure is stable for a long time, pikes and perches roam the shallows with very slow traction and rather silted.
Zander prefer a clear, but very slow flow, reverse currents and all kinds of mess behind obstacles. They chat for prey near the pigtails behind their heads and bridles in the swirls of the outer arcs of the river, in gutters shipped with large boulders.
Asps move away from the shore and stay for weeks in the current shadows beyond the stone reefs in the river, behind clay plates and firmly fixed slots. Big ides line up in the zander braids, chubs and barbel lurk in asp flows. Each of these fish can hit a very slowly led bait. Maybe, but it doesn't have to. It is better not to count on December predators. Lo, you need to put on a walk with a fishing rod. And if the fish does, the hunter's instinct will thaw in a split second. Sometimes a set can be picked out of a good position.