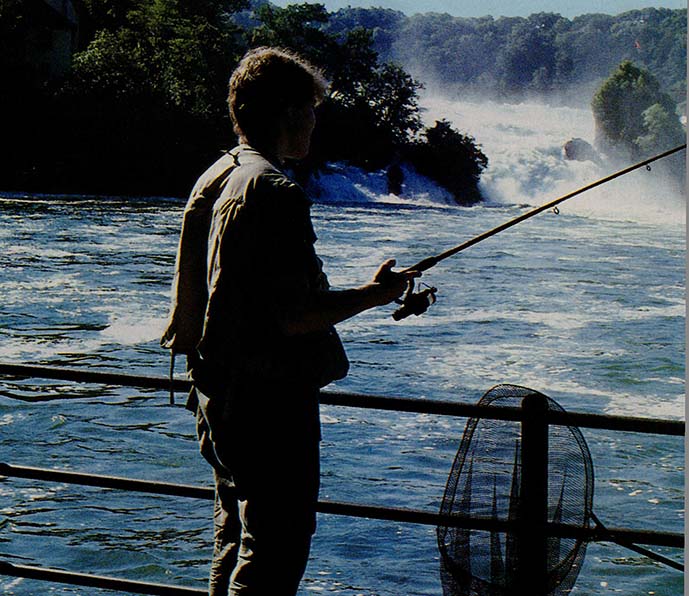 The Rhine waterfall in the Swiss town of Schafhausen is not only the largest waterfall in Europe, but also one of the most beautiful fisheries of various species of fish. Three visiting anglers can try their hand at this charming place every day.
The old lady wouldn't believe me for anything. She shook her head and looked at me with obvious indignation, while her poodle was unceremoniously sniffing my bait yellow Gouda. -Fishing is definitely not allowed here, young man! – You're allowed, ma'am, slow, you only need to purchase the appropriate permit. I perfectly understood the accusations of the old lady, because before leaving for Schafhausen I was also tormented by similar doubts. Go fishing under the most beautiful and popular waterfall in Europe? -It is definitely not allowed – my friend Klaus was saying – and if anything, it's at least a kilometer below the waterfall.
Water dust and roar
After inquiring, all worries flashed like a soap bubble. For the Swiss, the waterfall at Schafhausen is not a sacred cow, and the barbel is no banking secret, to be guarded like an eye in the head. Three visitors every day
anglers can purchase a special license for visitors entitling them to fish in the pool under the waterfall.
My friend Bernd and I are sitting almost at the waterfall, Tam, where is the walking alley (a small bridge) it comes to the river above the waterfall. Water dust is floating in the air around us, waterfall
roars, that you have to raise your voice. For half a day we laughed at the hilarious event, which happened the previous day. Bernd asked a tackle shop for "the biggest weight they have". The woman serving us disappeared somewhere in the back room and after a long moment, slightly bent with effort, put a 3-kg downrigger ball on the counter. – Is that enough? – she asked quite seriously. Ultimately, we bought an adequate stock of 100 gram weights (There were no bigger ones), though they turned out to be a bit too light anyway, for below the waterfall the water did what it wanted to them sometimes. Only when the line is constantly taut and the poles are bent low over the water, the weights lay relatively still on the bottom in one place.
There is no wonder why – we fished in the emerging current below the largest waterfall in Europe.
The water here falls from above 25 meters and spreads to a width of approx 150 meters. Every minute, approx 300.000 full tubs of water.