Fishing by the "float" method"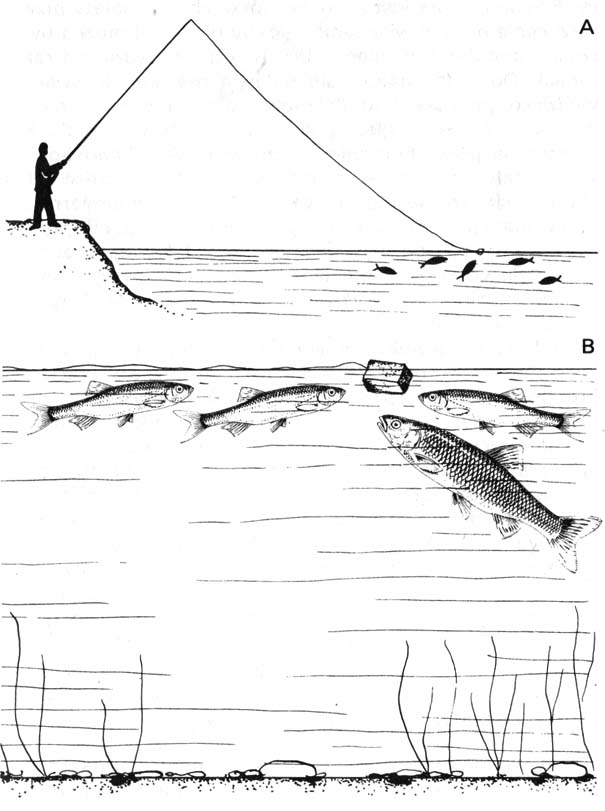 Fishing on a float" – A – general view B — announcement of a bite – it is often the lure being nibbled by small fish.
The same principle of feeding an unloaded bait to the surface, catch is based on "float."". We can practice it in more extensive waters, with accessible edges. Larger fish are more cautious and most likely feel well away from the shores. It is an art to give them the bait unloaded there. Therefore, what is desired in this method is good, springy and long rod, as thin as possible a fishing line and a successful coincidence – helpful wind in the back. The bait, which is usually a crust of bread, should be soaked for a while before throwing, so that she could be thrown better (it will dry a bit during the flight and will not sink right away). To throw, you should place your back to the wind, the rod should be kept rather vertical during the flight, to catch the wind in the sails as well as possible". After the lure drops, we manipulate the line in this way, so that the wind and waves would lift her freely. We try to keep the main part of the line above the water – however, without excessive sag, because the jam must be made quickly, whenever we notice, that it rippled under the floating crust, then the water raged. An announcement of a bite may be the increased interest in the crust of the bread of small fish (Carp will take a carp, for example, if only because, to clear the morsel from under their noses). If the bait stays in one place on a completely calm surface of water, it does not arouse any interest of the fish, don't wait too long, but you have to try to move it gradually (pulling or jumping). This can sometimes be irritating to the fish, and the effectiveness of the bait will be significantly increased. There are also frequent bites without any signals, so hold the line in the fingers of your left hand, to be able to jam instantly. Always better, when we cheat the fish, than when the fish deceive us. But, Caution: the line is as thin as a hair, so let's cut it really sensitively – sometimes it is enough to hold the rod lightly, and the fish will jam by itself.