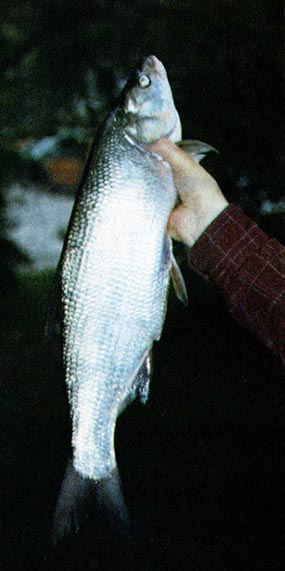 When my adventure with the fishing rod began twenty years ago, Asp was a great mystery to me. Several years have passed, I have gained some fishing experience, however, I still had no luck with Asp. The urge to take on rap was getting stronger and stronger and it even happened, that while browsing atlases and fishing books, I always kept my eyesight on the photos and illustrations of these fish a bit longer and caught them in my dreams. The breakthrough happened quite unexpectedly. One summer day I was returning home from the river and passing a holiday resort I saw a net hanging on a tree, and in it a beautiful silver fish. Asp! Someone's got an asp! It was a stimulus, which I needed. I decided, that I will do anything, to catch at least the same rap this year. So it happened. Today I have a lot of asps on my account, however, in retrospect, I can confidently say, that the first rap was not the most important thing at all. I had a lot more satisfaction after catching a completely different asp.
This adventure happened a few years ago, when spring asp fishing was still allowed. On Easter Monday we went fishing with Jacek, my friend, and at the same time a teacher and fishing guru. We went to the Vistula River near Kłoda (about 70 km from Warsaw in the direction of Kozienice). We assumed in advance, that we will only spin above Radomka. In those years, this river could be safely called the largest sewer in central Poland, no wonder then, that we were not happy about fishing below its mouth. Tell the truth, we focused mainly on fishing with ides and spinning. We didn't even think, that we will have the opportunity to make Monday on this day… pain.
The weather was very nice for early spring and encouraged to fish. After leaving Ryczywół and walking a few kilometers, we finally reached the bank of the Vistula. The queen of Polish rivers flowed mysteriously and carried the spring one, unfortunately a bit dirty water. The water level was quite high. After the spinning was assembled, we went to fight. I started off with my favorite wicker bushes. Jacek went somewhere further. Already in the third throw, I felt a characteristic tug, I cut briefly and the fish began to spin the grinders on the surface of the water. Unfortunately, spring asp is a weak opponent, so after a while he slipped onto the shore. He wasn't great, but for the beginning of the season, 1,07 kg is also a good result. Then he cut it off with a knife – we thresh, we thresh and nothing comes of it. The only entertainment is admiring the landscape and the awakening nature.