Gold, gold. On the Klondike River, this news probably spread all over North America. Over a century ago, the gold rush broke out here near Dawson. Thousands of new arrivals besieged the shores of the Yukon. Everyone came here hoping for a better tomorrow. For most, the gold rush has become a nightmare, symbol of evil and unfulfilled dreams. The Klondike River donated its treasures for several hundred seekers, became for them the "Holy River" and was their Eldorad. Today – after over a hundred years of human activity – the landscape is almost lunar.
Dug mountains of earth, millions of tons of golden-bearing sand washed away, in some places mountains of washed stones are not smaller than mining heaps in Silesia. Even though the gold rush has long been forgotten, however, the Dawson area is still an Eldorado, and not only for the tourism industry, but also for anglers and hunters…
What else may be required of life? My childhood dream was the Yukon River. The driving force was Jack London and his "White Fang". I am now standing on the banks of this beautiful and great river. The landscapes found here match the imagination of my teenage years. In the vicinity of Dawson, the mountains are gentle and very much like the Bieszczady Mountains. The mountains are all green, and the gentle slopes are covered with dozens of species of colorful flowers. It happens often, that a bear would run across the path, you can see elk and reindeer passing through the valleys. At night, howling wolves and coyotes break the silence, and in the mornings beavers build their water dams. Yukon Territory is wilder and more natural than neighboring Alaska, maybe because of it, that there are fewer roads and people here.
The Yukon in August carries cloudy water, this is due to low water levels and leaching of soil. Most of the fish move to clear lake waters or to clear glacial rivers during these periods. Salmon that enter the Yukon have to overcome 3000 km, to reach their spawning sites. Such a journey takes a lot of effort and costs the fish time and energy. In their journey up the Yukon, salmon flow into clear glacial rivers at certain stages of their path for a short rest, and above all, to clean your gills. Salmon enter the Yukon: king salmon, red salmon, pink salmon, chum salmon, co-i salmon. The remaining Yukon Territory fish stock is as follows: lake trout (The.) -(Salvelinus namaycush) – it is a lake trout, dolly varden (The.) – (Salvelinus ore) – kind of trout, arctic car (The.) – (Salvelinus alpinus) -polar saibling, rainbow trout (The.) – (Salmo gairdneri) -Rainbow trout, northen pike (The.) – (Esox of light) – pike, arctic grayling (The.) -(Thymallus arcticus) – arctic grayling, lake whitefish (The.) -(Coregonus clupeaformis) -lake whitefish, unknown – (Stenodus leucichthys) – unknown, least cisco (The.) – (Washed coregonus) – this is probably the equivalent of our whitefish, burbot (The.) – (Lot lot) – burbot.
It is impossible not to catch a fish in Klondike. The water here is clear as a tear, the bottom is covered with coarse gravel, sand or rocks, lots of deep dimples and rapids. It provides great living conditions for trout, grayling and young salmon fry. Young salmon stay in the river for up to two years and swim to the ocean. After a 3-6-year stay in the ocean, they return without fail, where they were born. Salmon that enter the Yukon are of great economic importance to the people living there. They are a valuable source of protein, vitamins and fat. The winter in Yukon Territory is very long and hard, and Indian-dried salmon, without worrying about additional maintenance, it will last until spring. Dog sleds also use valuable salmon meat, indispensable in winter for transport and long hunting trips. Husky dogs are true friends of man, feel free to write, that they are a symbol of the far north. Many people owe their lives to them. In defense of their owner, they will not yield to wolves or to the mighty bear grizzly.
The Indians catch salmon with large landing nets, positioning themselves in the narrow passages of the river. This way of fishing could be compared to rowing, only there is a large landing net instead of the oar. I have witnessed the effectiveness of such fishing. I have seen, like two well-built Indians with such landing nets in one short night they fished out, without exaggeration, well over 300 pieces of salmon. The average weight of King Salmon ranges from 8 into 12 Kg. There were also more magnificent, after approx. 20 Kg. Indians come to rivers with their entire families. One such Indian salmon camp consists of a dozen or so families. The men fish at night, and the women and children clean and dry the fish during the day. Work is not easy and everyone does their job here. Mostly they fish like this from 10 into 14 days, and then, with winter supplies, the fish go to their reserves. They have been doing it for hundreds of years without any loss or damage to fish stocks and the environment. The Yukon Territory government allows only Indians and permanent residents to fish this type of fishing.
Fairbanks
You could say, that this is where the world and civilization end. The end of great highways, there are no motels and roadside restaurants. Forests and wastelands, this is the landscape north of the city of Fairbanks. The city itself is very nice and modern. Here everything ends and begins at the same time. The James Dalton Road to the Beaufort Sea is nothing like a highway. It's just a dirt road that runs along the Alaskan oil pipeline. Closed during the winter season due to difficult weather conditions. It's the only way in summer, which can be reached by car, on the Alaskan Arctic Circle. We pass the Yukon bridge and stop only for a meal and that, to watch in Stevens Village, wide at 10 km the Yukon River. Our goal is the Arctic Circle.
Boletus, boots, kites, butterflies – Our eyes have not had the opportunity to see such large amounts of fungi yet. Noble boletus, in large colonies, they grew along a small river called Fish Creek. The intersection of this river with the road "James Dalton" – that's the point, in which you actually cross the Arctic Circle.
The little river is very nice with crystal clear water, washed and overturned birch trees effectively stop the swift current of water creating numerous pits and depressions. Quite high gravel and sand slopes on the banks, it is clear to me - there must be graylings here. It's an hour 24. There is no night at all. Our watches are of little use. We count more on our biological clock – when we feel sleepy, i.e. it's night time and you need to rest, stomach suction announces lunchtime etc.. The Arctic Circle welcomed us with mushrooms, beautiful weather and the bane of the north, that is, mosquitoes. Someone once said far north, that it is impossible to get bored there. It's probably true, because how can you get bored, if two regiments of aggressive mosquitoes attack a person in a minute and no less a flock of painfully biting black flies…
Arctic grayling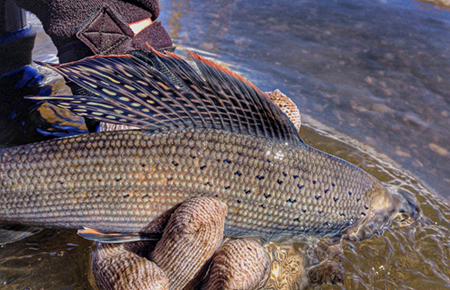 Arctic grayling Thymallus arcticus, names used: American Grayling, Bluefish, Arctic Trout, Sailfin, Tittimg.
This gentleman smelling of thyme is second to none. It changes color and color depending on the water and the nature of the bottom. He comes from the royal family of noble fish, it has a wonderful dorsal fin, and when hooked on a hook, it can successfully defend itself. Successful hauling and removing grayling from the water must please the eyes of even the most demanding anglers. Here, beyond the Arctic Circle, the grayling menu consists mainly of various types of flies, mosquitoes and larvae. He also does not disdain tiny aquatic creatures and the spawn of other fish. My first encounter with grayling began at Fr. 3 in the morning – despite the night time, the sun was shining all the time. I used cream cheese as bait, and the method is old and simple: a traditional flow with a float flown on the ground with a slight holding of the set. The choice of place was not a problem. Everywhere here there are many trees fallen by beavers and deeper holes. I chose the narrower section of the river, deeper with birch trees fallen into the water. The choked water created a vortex in the middle of the river, which washed out a groove 1.5 meters deep in the bottom. That's where I directed my lure. The strikes were made by gently holding the set, that is, when the lure with the hook lifted from the bottom. Takes were frequent, almost every time the rod is cast. The catch efficiency is on average five hard ones, one landed on the gravel bank. Arctic grayling takes the bait decisively, but also very delicately. Brittle mouth, quick water and effective self-defense attacks, contribute to this, that most grayling comes off the hook. My first grayling was approx 40 Cm, and my first result is 9 polar grayling arts.
Our first breakfast in the Arctic Circle consisted of breaded grayling made by Mark and Igor. Fried grayling pieces are really "heaven in my mouth". My friends slept through that first grayling morning. They were too tired of driving for a long time. However, after breakfast they will catch up with a vengeance. Anyway, most of the caught grayling will return to the water, because we simply have nothing to do with fish, there are too many of them for consumption, and there is no point in storing it. There is fresh fish in the water everywhere. Thyme residents of Fish Creek after successfully towing ashore
so they regain their freedom and return back to their blue-blue river.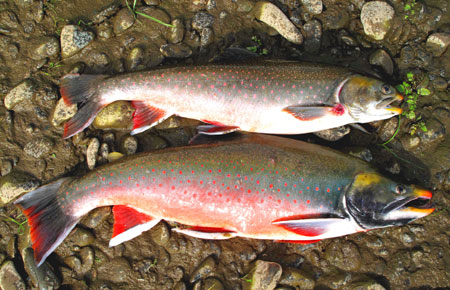 Another fishing attraction of the Arctic Circle was a beautiful and brave trout – Dolly Varden (The.) To bury in storage. Names used: Dolly Var-den, Buli Char, Samon Rout. The name of this wonderful fish comes from a Dickens novel, in which miss Dolly Varden is featured. The girl was wearing a greenish-silver dress with pink polka dots; most likely someone compared the trout caught with Dickens' description and simply called it Dolly Varden… That highwayman of the northern waters, it can wreak havoc on salmon spawning grounds by eating its spawn, and later young salmon fry. At certain times, the state of Alaska has been harvesting to reduce the stock of this predatory fish. However, from the fishing point of view, this predator is a real fun. In combat it resembles a rainbow trout, or rather its itinerant form called Stealhead. Here in the north, Dolly doesn't grow very big - at best she can get a mass of up to 5 Kg; most are art from 1,5 kg of 2,5 Kg. A similar description to Dolly Varden can be compared to his nephew (Sauelinus alpinus) called Arctic Char, which also occurs in southwestern Alaska, The Beaufort Sea and the Arctic Ocean. We did not manage to catch this fish during our stay in Alaska. It is also worth mentioning the ubiquitous burbot (Lot lot). It is found in all northern waters, during the harsh winter it is successfully caught from under the ice.
We say goodbye to the Arctic Circle with satisfaction. Caught grayling, holes and burbots are a good topic for memories and fishing chats. On the way back, we were able to see a few thousand herd of caribou reindeer traversing the arctic wilderness from a distance.. It is a sign, that arctic winter is approaching, which is long and frosty, what the saying of Alaskan hunters says: "If you don't believe it, that hell can freeze – meaning, that you have never been to northern Alaska in winter ".