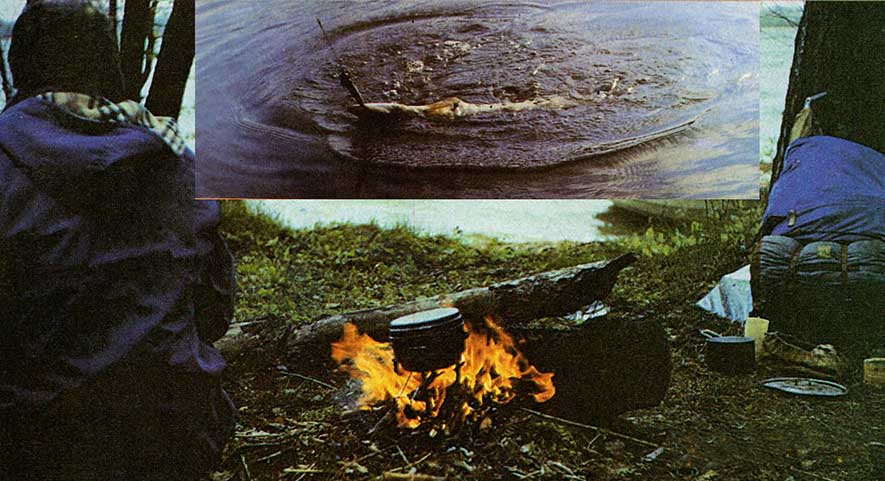 Northern gusty gusts of wind, multi-stage air temperature, drizzle, passing grays. So, it's november. As soon as I remember back with late autumn fishing, I always associate cloudy and dark days, leaden clouds hanging overhead, "Ragged" hands from the wind and water from the seaweed detached from the anchors, chill stabbing the body and… a fire lit in wicker bushes. Fire is not only a boon of nature that gives warmth to a frozen body, hot food in the form of smoky sausages and mulled beer, it is also the realization of boyish dreams of loner cowboys, it is also a taste of mental freedom.
Often the very catching fish is just an excuse and an "alibi" for the wife to spend the few or several hours in this form, to sit by the fire by the murmuring water and ponder thoughtfully of the fish of life, those caught and those yet to be caught. How is this something different from what we live every day.
Not all anglers can and like to deal with the adversities of the weather, however, there are also such, for whom fishing never has a bad aura and no chill will chill them, because they know that both rain and wind do not always have a negative effect on bites, on the contrary, torrential rains saturate the upper water layers with oxygen very quickly, and this is known to encourage fish to feed. Rainfall make too, that in the waters there appear enormous amounts of food in the form of larvae washed from the shores, insects, various benthic animals. So often disliked by anglers, the wind has a positive effect, especially in windward places, causing continuous waves and water movement, which flushes out countless benthic organisms along with the sediments. The rising water level forces the fish to migrate, and thus causes "self-crafting" little interesting and fishless, places that were ignored by anglers until recently. In deep fisheries, in late autumn it is easy to meet a large fish. With a voracious burbot, the noble Danube salmon, thick zander. It's a rare time, but powerful beats. Rare, because the sluggish and sluggish body of predators saves as much as it can hard-gained energy. And every attack, every start and chase after a victim is a waste of precious calories.
There is a dilemma in the fish heads – it pays to hit or not? Or the roach just passing by (or maybe a swaying and tempting wobbler?), will compensate for the effort put into the attack. The choice of the victim is mainly determined by the energy factor.
So, November's fishing is a time of waiting for fish that are reluctant to bite frequently. It is also the time of sitting alive, dead sausage or bleak at the end of the line. It is finally time to dream about a big trophy. Because if not now, so when?